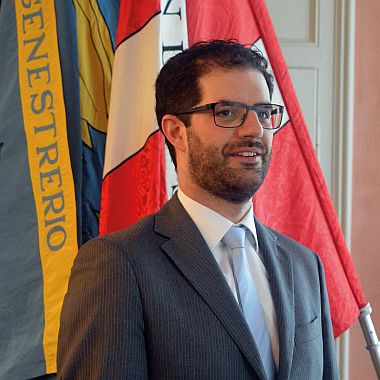 Samuele Cavadini
Speaker
Samuele Cavadini (1979) has been the Mayor of Mendrisio since May 2018. Mr Cavadini attended the University of Applied Sciences of Italian Switzerland (SUPSI) in Manno and obtained the diploma of business economist from the Department of Social and Business Sciences. He is employed at UBS and fulfills the role of consultant to private clients with the status of attorney, practice instructor for trainees and deputy manager of the Mendrisio branch of the bank.
In 2016, Mr Cavadini was elected to town hall and for two years directed the Dicasteries (departments) of "Sport and Free Time" and "Museum and Culture". Previously, in 2011, he was elected to the Grand Council of the Canton Ticino, and remained in parliament until 2016, when, appointed to the Esecutivo of Mendrisio, he chose a role at municipal level above that of granconsigliere.
Mr Cavadini had been a member of the Mendrisio Municipal Council since 2004. From 2012 to 2016 he was vice president of the PLR (the Free Democratic Party) ​​Section of Mendrisio.
Mr Cavadini is a member of the Fondazioni Teatro dell'accademia, the Casa dell'Accademia and the Processioni storiche di Mendrisio, the Historical Processions  of Mendrisio. He is an actor at la compagnia comico dialettale GTU of Genestrerio and a member of various cultural and recreational associations. In his free time he dedicates myself to reading, music, cinema, theater, fishing, travel and hiking in the mountains.