Benefit from Special Rates
The Heritage, Tourism and Hospitality conference organisers are pleased to find the event supported by hotels in the region. Conference participants can benefit from special room rates. Please find discount codes, contact details and more information on this webpage.
Hotel Coronado
Hotel Coronado is a comfortable 4-star hotel in the modern part of Mendrisio. It is located near the A2 motorway. The SBB train station is only 300 metres away. The Lugano-Agno airport is 25 km away and easily accessible with the airport bus. The distance to Milan-Malpensa airport in Italy only 40 km.
The conference venues on 6 and 7 April 2020 are at a 15-20 minute walking distance from the hotel. On 8 April a bus wil be available to to bring hotel guests to the conference venue Hotel Serpiano in Serpiano. 
Address: Via Francesco Borromini 10, CH-6850 Mendrisio
Special HTHIC2020 rates:
CHF 175 per night for a standard double room
CHF 110 per night for a standard single room
Included: breakfast
Excluded: city tax (CHF 4,40 per person, per night)
Rates are valid 5-10 April 2020 and subject to availability
Make your reservation using the discount code HTHIC2020
Hotel Serpiano
Hotel Serpiano is located in Serpiano and nestled between Lake Lugano and the Monte San Giorgio mountains. It offers beautiful views of the lake, the mountains and the garden, a private cable car to Lake Lugano, wellness and spa facilities.
The distance to the Lugano-Agno airport is 33 km and to the Milan Malpensa airport 61 km.
You are advised to consult the websites of Hotel Serpiano and AutoPostale for directions and up-to-date information on public transport options and time tables.
The conference venues on 6 and 7 April 2020 are in Mendrisio (not in Serpiano).
Hotel Serpiano is the conference venue on 8 April.
Address: Via Serpiano, CH–6867 Serpiano
Special HTHIC2020 rates:
CHF 118 per night for a standard double room
CHF 89 per night for a standard single room
Included: breakfast
Excluded: city tax (CHF 4,40 per person, per night)
Rates are valid 5-10 April 2020 and subject to availability
Make your reservation using the discount code HTHIC2020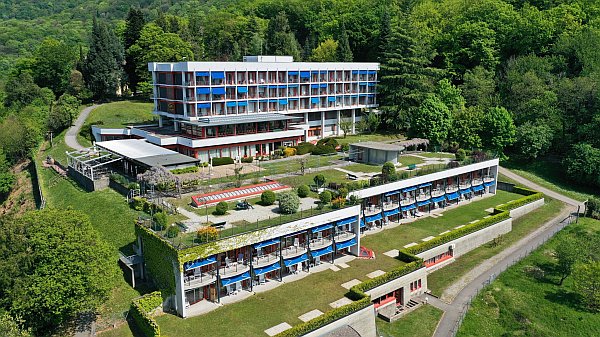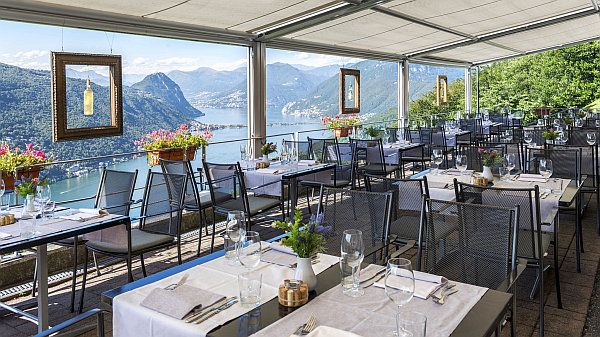 Museo d'arte
Accademia di Architettura di Mendrisio
Museo Vela
Museo dei fossili del Monte San Giorgio
Hotel Serpiano
Church of San Giovanni Battista
Hotel Coronado
Bus & Train Station Mendrisio