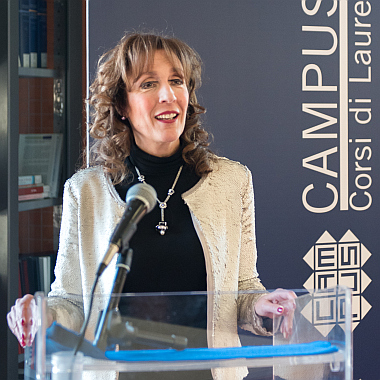 Enrica Lemmi
Scientific Conference Board
Associate Professor in Geography at the University of Pisa, Department of Political Sciences.
Teacher of Geography of Tourism and Managing Director for Tourism, Education and Research at Fondazione Campus in Lucca.
Director of Scuola MADE, a post – diploma course in Hospitality Management and Food and Wine Disciplines. Director of the Master in Hotel Management and Digital Tourism organized by the University of Pisa and Fondazione Campus.
Since 2017, speaker at Ecosistemi Digitali in Florence and Advisory board at BTO 2019.
Since 2015, President of the Technical-Scientific Regional Committee of Fondazione ITS "Tourism, Art and Heritage".
Technical Coordinator of some european projects: H.O.S.T. (The Heritage of Olive Tree for Sustainable Tourism COSME programme 2014), S.C.O.R.E. (Support for Capacities for Tourism of Retourning Emigrants, 2016), H.E.R.I.B.I.T.S. (Heritage Best Practice Models of Crowdfunding Intelligence to Enable the Culture Economy, 2017).
Since 2012, teacher of Economic and Political Geography at Accademia Navale in Livorno.
Since 2010, member of the PhD scientific board in Geopolitics at the University of Pisa.
Since 1996, researcher carrying out numerous research studies in the field of Urban Geography and Tourism Geography. Research Doctorate in Urban and Regional Geography in 1994.
Degree with honours in Literature in 1984.
Author of numerous publications, and speaker at many conferences in Italy and abroad.
In 2014 qualified as full professor.